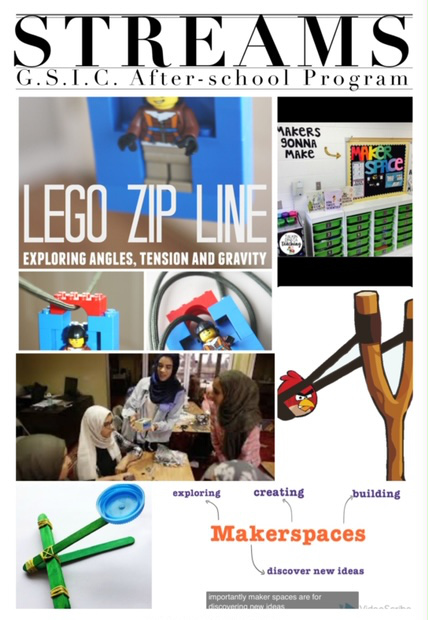 ---
THE STREAMS AFTER-SCHOOL PROGRAM
Vision Statement:
The STREAMS After-School Program is devoted to inspiring the next generation of Scientific Innovators with resources to support project-based learning that will ignite the student's interest in a future career within the STEM fields, In shaa Allaah.

Mission Statement:
The STREAMS After-School Program creates a safe, structured and supportive environment that promotes creativity, critical thinking, design, peer collaboration, and problem-solving strategies to enable the unique hands-on exploration of real-life and real-world problems.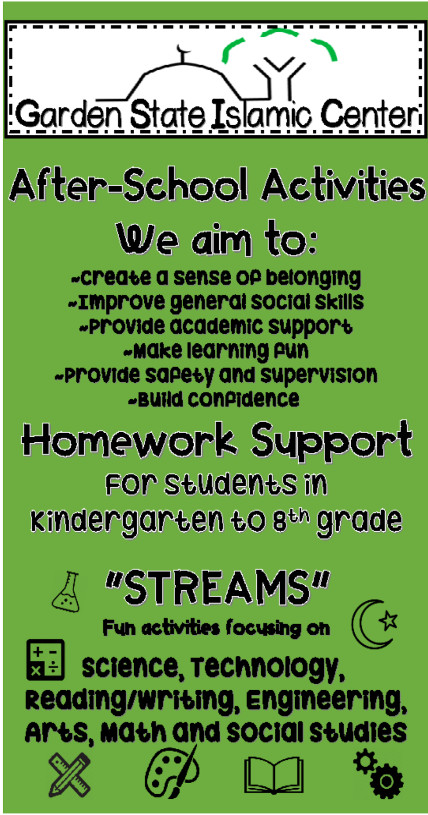 THE STREAMS AFTER-SCHOOL PROGRAM
Who:

GSIC's K-8 students

What:

After-School Program

Where:

G.S.I.C.
700 Bird Street
Vineland, NJ 08360

When:

Tuesdays & Thursdays
4:00-6:00 PM

Cost:

Free/No Charge*

Program Coordinator:

Sis. Wadudah Nurul-Islam
Qualification:
All participants, both staff and students, must be registered to participate in the STREAMS After-School Program.
Support:
Ask how you can help us provide students with opportunities to explore beyond the textbooks and to begin making positive contributions to the global community.
---
The STREAMS After-School Program
Start Date: February 4, 2020
End Date: June 11, 2020
Hours: 4:00-6:00 pm
Pick-up**: 5:45-6:00 pm (students picked-up after 6:00 pm will incur a $10.00 late fee every 15 minutes)
Program Calendar: The STREAMS After-School Program will be held, weekly, on Tuesdays and Thursdays. Changes and/or cancellations, to the program calendar, will be communicated through the Remind App and by notes sent home with students.
Program cost: Free/No Charge (late fee is imposed for students picked-up after 6:00pm) Snacks: Snacks will be provided (please remember to list any food allergies on the
registration form).
Staffing: 1 Program Coordinator, 1 Assistant Coordinator, Homework Helpers, STREAMS facilitators, Transporter (for fieldtrips) and volunteers.
Program Description: STREAMS stands for science, technology, reading/writing, engineering, arts, math and social studies. As students participate in STREAMS activities, they will engage in hands-on learning opportunities with other students and receive guidance from facilitators/role models. As an extension to the popular STEM/STEAM/STREAM curriculums, STREAMS uniqueness entails its (Islamic-centered) social studies component.
Station One: provides students the opportunity to receive homework support, from Kindergarten to 8th grade.

Station Two: offers students the opportunity to participate in Project-Based Learning.

Fieldtrips: Students will have opportunities to participate in grade-level fieldtrips. Prior to attending fieldtrips, all students are required to submit a signed permission slip by the established deadline. In the event a student does not submit a signed permission slip, they will remain at the G.S.I.C. with students not scheduled for a trip.

Community Service & Career Exploration: Students will have the opportunity to explore various career pathways and participate in community service activities that will connect students with role models within the community.

Please complete the attached enrollment form (pg. 3-5) and return it to the Masjid Office For more information contact Sister Wadudah Nurul-Islam at This email address is being protected from spambots. You need JavaScript enabled to view it.
Dr. Abdul-Azeem Ahmad at This email address is being protected from spambots. You need JavaScript enabled to view it.
---
---